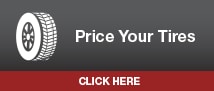 Tires At Modern Toyota of Boone
Having the right set of tires on your vehicle makes a difference, not just when rain or snow might pose a threat to your commute, but in everyday weather conditions. When you imagine driving around Boone, Hickory, and Johnson City we know you don't anticipate problems with your tires, but sometimes that happens thanks to a foreign object penetrating the tire. The good news is that our team keeps a well-stocked inventory of tires that fit your favorite Toyota model and we are ready to assist you in locating one tire or a full set.
In addition to helping you find the tires that you need to get back on your journey, whether to work or a family trip, we also provide the balancing for the best performance. We encourage you to also consider your tires before they present a problem, checking on them often to ensure the following signs of wear are not going to pose a risk later on:
Uneven tread wear
Tires that deflate often
A visible nail or other object embedded into the tire
Should any of these indicators of poor tire health or improperly balanced tires arise, we urge you to contact our team to schedule your appointment for a replacement. We will help you locate the right set to provide you with the performance you desire from your vehicle, because tires are about more than meets the eye.
At Modern Toyota of Boone let our service team assist you in all your automotive needs, even the ones we don't normally consider on a regular basis. Contact us to ask questions, order tires, or to discuss the potential for money saving coupons or special offers. Don't wait until there is a major problem, because the best way to avoid having a serious catastrophe or unexpected hiccup in your daily life is to practice prevention, which means routine maintenance.